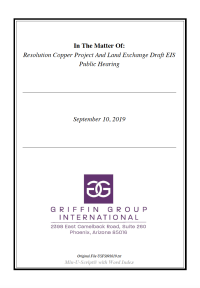 Public Meeting Transcripts
Throughout the 90-day public comment period, the Forest Service offered multiple ways – including website submissions, written comments and public hearings – for interested parties to comment on the analysis and findings in the Draft Environmental Impact Statement.
The Forest Service hosted six public hearings across three counties in towns and cities where the proposed mine and tailings facility would have a greater impact.
Public hearings were held in Superior, San Tan Valley, Kearny, Globe, Queen Valley, and Tempe.
Each meeting was structured as follows:
5:00 p.m. - 6:00 p.m.     Sign-in and Open House
6:00 p.m. - 6:30 p.m.     Video Presentation
6:30 p.m. - 8:30 p.m.     Public Hearing and Open House
Two court reporters recorded oral comments from attendees. Some attendees also submitted written comments.
These are the public comments from each public hearing.
Other Meeting Materials:
Draft EIS Public Meeting Transcripts
Public Hearing Comments Available
Comments from each of the six public hearings are available for viewing. Note that the public comment period is now closed.