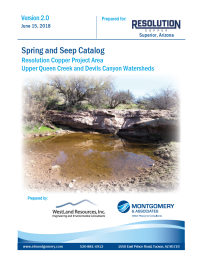 This catalog has been prepared to summarize available information for selected springs and seeps in the Upper Queen Creek and Devils Canyon watersheds (UQC/DC). The springs and seeps included in this catalog were selected based on proximity to planned facilities as proposed by Resolution Copper (RC) for the Resolution mine project. The catalog was prepared by Montgomery & Associates (M&A) and WestLand Resources, Inc. (WRI) on behalf of RC.
Reference Information:
WestLand Resources, and Montgomery and Associates. 2018. Spring and Seep Catalog, Resolution Copper Project Area, Upper Queen Creek and Devils Canyon Watersheds. Prepared for Resolution Copper. Version 2.0. Tucson, Arizona: WestLand Resources Inc. and Montgomery and Associates. June 15.
*This PDF document is not Section 508 accessibility compliant. If you require accessibility assistance, please contact us to Request Assistance.
Video & Materials
A video presentation – the same information introduced at each public meeting – as well as meeting materials (posters and newsletter) are available for public review.
Draft EIS Released
The Draft Environmental Impact Statement (DEIS) for the Resolution Copper Project and Land Exchange is now available for review under the 'EIS Info' tab.
Comment on DEIS
Optional ways to comment on the Draft EIS are located under the 'EIS Info' and the 'Public Involvement' tabs.